Attorney Siobhan Leger has been selected as one of the Top 3 Estate Planning Attorneys in Baton Rouge, Louisiana by Three Best Rated® for 2019. This achievement is impressive on its own but made all the more so by the fact it is not her first selection. In 2018, Attorney Leger was also recognized by Three Best Rated® for her work as an estate planning lawyer in Baton Rogue.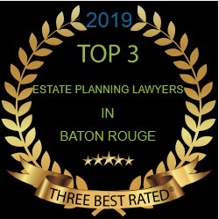 The purpose of Three Best Rated® is to find customers the best three local businesses, professionals, restaurants, and healthcare providers in any city. The organization's review team checks each business's reputation, history, ratings, satisfaction, trust, cost, reviews, general excellence, complaints, costs, nearness, and more using their 50-point inspection system.
Take a look at some of the peer reviews about Attorney Siobhan Leger:
"Siobhan Leger is extremely knowledgeable about family wills/estate law and helped us tremendously draft our Last Will & Testament. She discussed our options and what would happen in different scenarios to help us make informed decisions with regard to our specific estate to best fit our family needs. She answered all of our questions and was extremely patient, personable and most importantly thorough. She also accommodated my work schedule so I was able to go in during my lunch hour which was an added bonus for me. Her rates are very reasonable for her level of expertise. I would highly recommend her to my family and friends."
"Mrs. Leger was very professional, helpful, and patient with my elderly father. When you think about an attorney you don't often think of someone adding that personal touch, but she did. From returning phone calls to answering questions through email she never made us feel like we were bothering her. She even called on weekends if needed. She is the BEST. I will recommend Mrs. Leger every chance I get."
Attorney Leger has won numerous other awards in the past related to her legal services. She has been honored by the Top 10 Attorneys Under 40 by the National Academy of Family Law Attorneys in 2015 and 2016, the Avvo Clients' Choice Award in 2015, the 10 Best of American Institute of Legal Counsel in 2015, and many more.
If you have an estate planning case of your own in Baton Rouge, then please feel free to reach out to Leger Law Group, LLC and our legal team led by Attorney Leger. We would be happy to hear from you, discuss your situation during a free consultation for most matters, and go over some possible solutions.
Contact us at (225) 522-4996 today.